DongJoo Joung, Research Scientist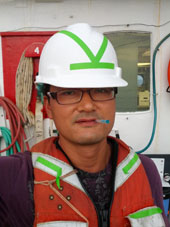 Email: djoung@ur.rochester.edu
RESEARCH INTERESTS
Isotopic Fingerprinting and Radiocarbon Analyses
Trace Metal and Greenhouse Gas Dynamics
Marine Biogeochemistry
Ocean and Groundwater Chemistry
I investigate biogeochemical processes in environments ranging from marine systems to hyper eutrophic freshwater lakes, that are both uninfluenced, as well as heavily influenced (e.g., oil spills) by anthropogenic activities. My research includes understanding the dynamics of greenhouse gases (methane, carbon dioxides, etc), trace elements, organic carbon, nutrients, and chemical pollutants (e.g., poly-aromatic hydrocarbons). I am also interested in developing new advanced techniques for chemical analysis and finding new proxies for biogeochemical processes, as I help to advance our knowledge of coastal processes and how they are influenced by climate change.
EDUCATION
2016-2017, Postdoctoral Research Associate, Division of Marine Science, University of Sothern Mississippi, Stennis Space Center, MS
2014-2016, Postdoctoral Research Associate, EPSCoR, University of Vermont, Burlington, VT
2014, Ph.D. Marine Science, University of Sothern Mississippi, Stennis Space Center, MS
2004, M.S. Oceanography, School of Earth and Environmental Sciences, Seoul National University
PROFESSIONAL EXPERIENCE
2017-present, Research Scientist, Dept of Earth & Environmental Sciences, University of Rochester, Rochester, NY.
PUBLICATIONS
Shiller, A. M., E. W. Chan, D. J. Joung, M. C. Redmond, and J. D. Kessler (2017) "Light rare earth element depletion during Deepwater Horizon blowout methanotrophy." Nature: Scientific Reports, doi: doi:10.1038/s41598-017-11060-z.
D.-J. Joung, M. Leduc*, B.Ramcharitar*, Y. Xu, P.D.F. Isles, J.D. Stockwell, G. Druschel, T. Manley, A.W. Schroth (2017) "Winter weather and lake-watershed physical configuration drive phosphorus, iron, and manganese dynamics in water and sediment of ice-covered lakes." Limnology and Oceanography, doi: 10.1002/lno.10521.
D.-J. Joung and A. M. Shiller (2016) "Distribution of trace elements, nutrients and dissolved organic carbon in Louisiana Shelf waters." Marine Chemistry, doi:10.1016/j.marchem.2016.03.003.
Chan, E., J. D. Kessler, A. Shiller, D.J. Joung, F. Colombo. (2016) "Aqueous mesocosm techniques enabling the real-time measurement of the chemical and isotopic kinetics of dissolved methane and carbon dioxide." Environmental Science & Technology, doi: 10.1021/acs.est.5b04304.
D.-J. Joung and A. M. Shiller (2014) "Dissolved barium behavior in Louisiana Shelf waters affected by the Mississippi/Atchafalaya River mixing zone." Geochimica et Cosmochimica Acta, 141: 301–313: doi:10.1016/j.gca.2014.06.021
M. Crespo-Medina, A. Vossmeyer, K. S. Hunter, C. D. Meile, A.-R. Diercks, V. L. Asper, J. P. Chanton, P. Tavormina, V. J. Orphan, A. M. Shiller, D.-J. Joung, C. Mann, J. J. Battles, R. M. W. Amon, J. P. Montoya, T. A. Villareal, A. M. Wood, and S. B. Joye (2014) "The rise and fall of methanotrophy following a deepwater oil-well blowout." Nature Geoscience 7, 423–427 (2014) doi:10.1038/ngeo2156.
D.-J. Joung and A. M. Shiller (2012) "Trace element distributions in the water column near the Deepwater Horizon well blowout." Environmental Science and Technology. doi: 10.1021/es303167p.
A. M. Shiller, and D.-J. Joung (2012) "Nutrient depletion as a proxy for microbial growth in Deepwater Horizon subsurface oil/gas plumes." Environmental Research Letters. doi:10.1088/1748-9326/7/4/045301.
Wade, Terry L.; Sweet, Stephen T.; Sericano, José L.; Guinasso, Norman L., Jr.; Diercks, Arne-R.; Highsmith, Raymond C.; Asper, Vernon L.; Joung, DongJoo; Shiller, Alan M.; Lohrenz, Steven E.; Joye, Samantha B (2011) "Analyses of Water Samples From the Deepwater Horizon Oil Spill: Documentation of the Subsurface Plume," in Monitoring and Modeling the Deepwater Horizon Oil Spill: A Record-Breaking Enterprise Geophysical Monograph Series, Issn: 0065-8448; Isbn: 978-0-87590-485-6, Vol. 195, pp. 77-82.
Diercks, A.-R.; Highsmith, R.C.; Asper, V.L.; Joung, D.J.; Zhou, Z.; Guo, L.; Shiller, A.M.; Joye, S.B.; Teske, A.P.; Guinasso, N.; Wade, T.L.; Lohrenz, S.E. (2010), "Characterization of subsurface polycyclic aromatic hydrocarbons at the Deepwater Horizon site." Geophys. Res. Lett., 37, L20602, doi:10.1029/2010GL045046.
G. Kim, Y.W. Lee, D.J. Joung, K.R. Kim, and K. Kim (2006) "Real-time monitoring of nutrient concentrations and red-tide outbreaks in the southern sea of Korea." Geophysical Research Letters, VOL. 33(L13607), doi:10.1029/2005GL025431.
TEACHING EXPERIENCE
Aug. 2010 ~ Dec. 2010: Teaching Assistant in Marine Science (for graduate)
Aug. 2005 ~ Aug. 2005: International Summer School on Submarine Groundwater Discharge, Seoul National University
Sep. 2003 ~ Dec. 2003: Teaching Assistant in Oceanography (for undergraduate)
UNDERGRADUATE INTERNS ADVISED
Miranda Madrid (University of Notre Dame)
Nicole Elizabeth Mucci (University of Vermont)
Meagan Leduc (Lyndon State College)
Benjamin Ramcharitar (Middlebury College)
Kelsey Colbert (University of Vermont)
GRANTS AND AWARDS
April 2015: Pilot Research Project, EPSCoR NSF: "A comparative study of internal nutrient loading in two eutrophic systems with varying degrees of anoxia" ($10,000)
May 2014: Outstanding Graduate, Department of Marine Science, USM
March 2014: Top abstract from Department of Marine Science, Graduate Student Research Symposium, USM
March 2013: Outstanding Doctorate student, College of Science and Technology, USM
June 2012 - May 2013: Marine Science Scholar Fellowship, Department of Marine Science, USM
May 17 - 29, 2005:

Short term study abroad - Geosciences Advisory Unit, Southampton Oceanography Center (now NOC), UK (Analysis of radioisotopes using ICP-MS)
SHIPBOARD & FIELD EXPERIENCE
Aug. 25 ~ Sept. 6, 2017 US Atlantic Margin, R/V Hugh Sharp
June 13 ~ June 22, 2017 Great Lakes, R/V Blue Heron
Jul. 6, 2014 ~ Jul. 12, 2014

US Atlantic Ocean, near Hudson Canyon, R/V Endeavor
Aug. 6, 2012 ~ Aug. 14, 2012

Gulf of Mexico, Deepwater Horizon oil spill site, R/V Cape Hatteras
Oct. 20, 2011 ~ Oct. 31, 2011

Gulf of Mexico, Deepwater Horizon oil spill site
Oct. 10, 2010 ~ Oct. 21, 2010

Gulf of Mexico, Deepwater Horizon oil spill site
May 25, 2010 ~ Jun. 03, 2010

Gulf of Mexico, Deepwater Horizon oil spill site
Apr. 30, 2010 ~ May 09, 2010

Gulf of Mexico, Deepwater Horizon oil spill site
Mar. 10, 2010 ~ Mar. 22, 2010 Gulf of Mexico, Gulf Carbon
Jun. 28, 2009 ~ Jul. 04, 2009

Gulf of Mexico, Magmix-3
Oct. 31, 2008 ~ Nov. 08, 2008 Gulf of Mexico, Magmix-2
May 01, 2008 ~ May 8, 2008

Gulf of Mexico, Magmix-1
Oct. 7, 2005 ~ Oct. 28, 2005

Joint cruise between Korea and Russia in the East Sea
Mar. 20, 2005 ~ Apr. 10, 2005 Joint cruise between Korea and Russia in the East Sea
Jun. 10, 2004 ~ Jun. 19, 2004

Teaching Assistant of On-board experiments in the School of Earth and Environmental Sciences, Seoul National University
May 05, 2004 ~ May 30, 2004 Joint cruise between Korea and Russia in the East Sea
Current Member: Yes
Order Number: 2