We are making measurements of methane concentration, stable isotopes, and radiocarbon isotopes in natural waters to determine sources, sinks, and fluxes of this greenhouse gas around the planet.
One more specific investigation involves stable isotope theory. Stable isotope measurements of methane are powerful tools with the potential to determine both formation and destruction properties of methane. However, because of some peculiarities with the biogeochemical kinetics of the isotopes, the quantitative treatment of isotopic data becomes much more of a challenge. Here we are reevaluating the fundamental theory and repeating some of the early experiments with a new experimental design enabling high temporal resolution isotopic analyses. The goal of these investigations is to provide a solid fundamental understanding of methane isotope kinetics which can be used for the quantitative treatment of stable isotope data.
SELECT PUBLICATIONS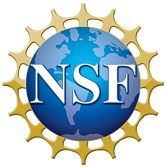 "Any opinions, findings, and conclusions or recommendations expressed in this material are those of the author(s) and do not necessarily reflect the views of the National Science Foundation."